021014
THE BUS
An everyday trip with a commuter bus suddenly changes, the driver takes the bus on a ride into a park. He stops, starts talking to the passengers, tells them that they are kidnapped but only for one hour. He wants all of them to share a part of their life with them. Their dreams about the future.
THE CLEANING BUCKET
A woman drags a cart with cleaning equipment along a busy citystreet. She moves slowly, in another world. Stops at a pedestrian crossing by a school, she starts swabbing in a slow, determind manner. Traffic is blocked, the woman continues her swabbing, undisturbed. Finished, she drags the cart into the schoolyard and begins to swab.
021015
THE BUTCHER
A sharp butchers axe cuts through red meat, the steelblade moves through senews and muscular tissues in a swift, easy manner. The butcher acts out his work confident, with precise and clean cuts. No blood, no slimy viscous substances. We see his hands covered by plastic gloves, the meat, the knife.
021016
WINDOWS
The intercross between out and inside, private and public. An neverending row of windows fading into each other. Empty, reflective, light and dark. With faces. With secrets, stories to tell. Or without any history, only surface.
021017
THE RESTROOM
A "pretended" documentary that looks like a version of hidden camera. Picture is recorded behind a mirror in a restroom, on the mirror someone glued a note. SPEAKE OUT! DON`T BE SILENT! Some of the visitors ignore it, others are suspicious / troubled. But a few adresses the mirror directly. Takes the challenge. The content and thoughts are improvised on the spot.
021018
THE DOORWAY
Early morning, a worn-out, tired-looking woman presses her ear against a housephone in a doorway. She listens to a male voice who in an agressive tone tells her how He never will loose control, never let her in again. The woman tries to comment, but the man goes on and on with an increasing desperate tone. His voice cracks until a sharp bang suddenly echoes over the phone. Silence.
021022
THE ELEVATOR
The view through the glassplanes of an elevator going up and down. The images shows fragments of the sky, citystreets and rooftops, in an out-of-focus, uncontrolled manner. The sounds are distorted, metallic noises whine and squeek.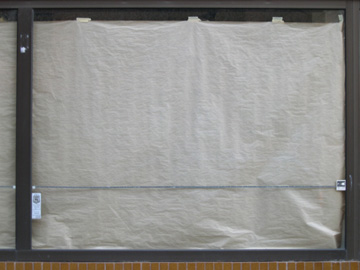 021023
PANIC
An extreme subjective manner. The image is out-of-focus, people on the street are like shadows, in windows images turn into black / white unsharp fields. Unaudible voices tried to break through a dissonant filter. An attempt to form an image of a state of panic from an individuals perception. Finally the subject disappers into the black hole.
021024
HOME
A voice-over description of a home. Detail after detial in an pseudo-organized manner: rectangular wooden table of undefined age with sawmarks and paint remains. 4 red handpainted wooden chairs of different style. etc etc
021025
CITYSCAPE
Cementaries as an image of a country, a cultural sign. A selection of still images imposed on each other in no particular order och system. Anonymous images downloaded from the web.
021028
MOUTH
The image fades in and out, a sequence of human lips. Mouth that seemingly speak but the words are mixed, sampled and turned meaningless. Put in a new chaotic order where new sentences and meaning starts to grow. Can words create meaning by themselves, or is spontaneus content a possibility ?
021029
TRAVEL
The sound of heavy lorries and buses on top of still images. Artificial muscles on asphalt. The dinosaurs of the road makes sounds like rising tornadoes, creates a rhytm of pumping engines. Distorted, amplified and enlarged they for an image of the modern machine age.
20021209
BRINGING OUT THE DEAD
An neverending stream of still images, news shots of dead people. All of them are victims in accidents or attacks. No war images, but ordinary, daily disasters with a fatal end. The images are enlarged, grainy outtakes from prints in newspapers and news screens.
021014
BUSSEN
En ordinär resa med en stadsbuss förändras plötsligt när chauffören ger sig iväg ut i en park och stannar bussen. Talar med passagerarna, säger att de är kidnappade, men enbart för en timme. Han vill att passagerarna skall berätta om sitt liv. Om sina drömmar. Om sin framtid.
STÄDHINKEN
Kvinnan rullar sin städvagn längs en hårt trafikerad stadsgata. Hon går långsamt och i sin egen värld. Ställer sig och svabbar ett övergångsställe vid en skola. Trafiken blockeras. Kvinnan fortsätter oberörd att arbeta. Rullar in vagnen på skolgården. Skurar rent ock sopar undan. Tyst och metodiskt.
021015
SLAKTAREN
Den vassa slaktkniven skär in i köttet, stålet glider lätt genom det trådiga, genom senor och muskler. Det är ett noggrant utfört arbete, rent och snyggt. Inga blodrester, inga slemmigheter. Man ser händer, kött och kniv. Ett rent bord. Plasthandskar.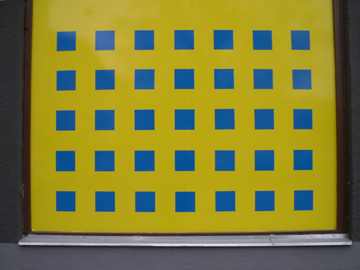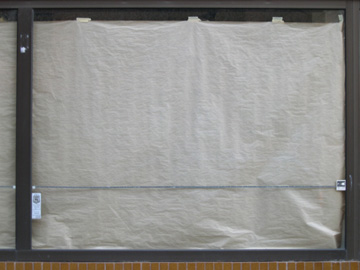 021016
FÖNSTER
Gränsen mellan ute och inne, mellan privat och offentligt. En oändlig rad av fönster som tonas in och ut och in. Tomma, reflekterande, ljusa mörka. Med ansikten. Med hemligheter. Med historier att berätta. Eller tvärtom. Bara yta.
021017
TOALETTEN
En "fejkad" dokumentär som ser ut som en dolda kameran variant. Bakom spegeln på en toalett, där någon har klistrat en lapp med texten SÄG IFRÅN ! TALA UT ! Flera av besökarna gör inte det, är mera besvärade / misstänksamma. Men några riktar sina tankar direkt till spegeln. Tar uppmaningen på allvar. Improviserat innehåll.
021018
PORTEN
En tidig morgon, en utvakad, sliten kvinna står med örat mot en porttelefon. Lyssnar på en manlig stämma som i aggressiva ordalag talar om hur han aldrig kommer att släppa kon trollen, aldrig släppa in henne. Kvinnan försöker kommentera, men mannen maler desperat på. Vi hör hur rösten alltmer spricker tills en skarp knall ekar. Det blir tyst.
021021
BIOGRAFIN
Ett "fejkat" dokument som rekonstruerar en individs rötter, livsval och tillstånd. Det görs av en osynlig berättare / reporter / ledsagare som med handhållen kamera forskar / spionerar på denna person. Personen det berättas om bygger en båge mellan det "gamla" och det "nya", mellan ett kontroll-samhälle och ett nutida skapaditteget-samhälle. Samtidigt avslöjas vad som skett, vad denna person genomlevt. Uppdraget är att skapa en historia, ett nutidsdokument. Historien handlar om en person som genomgått flera metamorfoser; från familjen till flykten, från trygghets-beroende till ny-skapelse.
021022
HISSEN
Den inglasade turen upponed och nedoupp som visar fladdriga rörelsebilder av himmel, hav, stad. Tydligt "experimentstuk". Ljud som förstärker, gnäller, skriker, gnisslar.
021023
PANIK
Extremt subjektivt perspektiv. Bilden har svårt att fokusera sig, människor på gatan är suddiga varelser, spegelbilden flyter samman till svarta / vita fält. Rösterna som försöker tränga igenom är dissade, osorterade och ohörbara. Ett försök att gestalta hur paniken byggs på, mer och mer. Tills subjektet försvinner in i det svarta hålet.
021024
HEM
Den muntliga beskrivningen av ett hem. Detalj efter detalj i pseudo-katalogiserad stil : rektangulärt träbord av odefinerbart ursprung med inläggsskivor och märken av såg och färg; 4 röda handmålade pinnstolar av olika modeller. osv osv
021025
CITYSCAPE
Cementaries as an image of a country, a cultural sign. A selection of still images imposed on each other in no particular order och system. Anonymous images downloaded from the web.
021028
MUN
Bilden tonas ut och in, en sekvens av munnar som alla tycks tala men i själva verket är det en meningslös ström av ord som kommer, samplade, hoplagda. I en kaotisk ordning där nya meningsbyggnader och innehållssammanhang kan skönjas. Men är det en chimär att orden betyder något, eller har de ett eget liv ???
021029
RESA
Ljudet av transporter ställt mot stillbilder. Artificiella muskelmassor på asfalt. Vägarnas dinosaurier låter som tornados, trycker mullrande motorljudet framför sig. Förstärkt, förvrängt och förstorat är detta ljud ett avtryck av vår maskinvärld.